look here ! thirsty? hunger? Store drinks, snacks and meals! Whether you are short of space or prefer to keep good things nearby, the mini refrigerator is a cool and compact solution. Imagine a long highway without a refreshing drink! With this refrigerator, you can have a drink for everyone, or keep snacks cool (or hot) for a long time in the visible civilization! Cooling and warming dual mode-The mini refrigerator uses semiconductor technology and has a powerful cooling and heating dual system, which can easily switch between cooling and heating. Its cooling function can be used to cool drinks and fruits, and even your skin care products or medicines.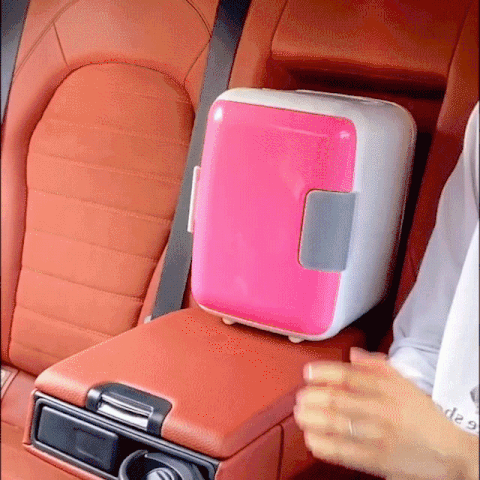 The heating function can be used to warm milk, breast milk, lunch, and hot drinks.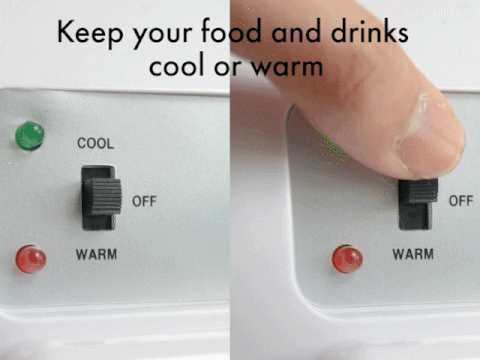 Maximum Portability-The convenient carry handle makes transporting what you need even easier! Stow it in any car, truck, or SUV or place it on or below your desk so your goods are always within reach.
ECO-Friendly Engineering-The semiconductor refrigeration chip is freon-free and environmentally friendly; Quiet technology keeps sound at a minimum (25dB).
Low energy consumption, more economical and friendly, 48 watts of power, free replacement of hot and cold.
6 Can Capacity so you'll always be able to crack open a cold one.
Its small size squeezes into tight places, and always stays quiet.
Beauty Care Essential.Cool down your skincare routine without having to go to the kitchen fridge.
Peaceful sleep may require 25dB, we've ensured that our cooler operates in virtual silence so you can rest easy.
AC/DC adapter makes your fridge available for both indoor and outdoor use.
Cold items will stay cool for several hours after the portable fridge has been turned off,provided that the door is closed properly.
specification:
Practicality: Portable car coolers are very useful in summer and winter.
Material: pp
Color: pink, blue, white
Working voltage: 12V / 220V
Principle of Refrigeration: Semiconductor Technology
The lowest cooling temperature 20~25(℃)
Maximum heating temperature 65 (℃)
Package Included:
1 x mini refrigerator
1 x car power cord
We proudly offer worldwide shipping 17track! Please note order processing time is typically 1-3 business days.
Once your order has shipped, the estimated delivery time is between 5-20 business days. Please consider any holidays that might impact delivery times.
Please note: Your order may split into multiple shipments. If this occurs, you will be notified and receive a tracking number for each separate shipment.